Friday for me means it is time to link up with the lovely Jocelyn from The Reading Residence and decide on my Word of the Week #WotW.
This week I could have chosen a few words, but I think the one which sums things up best of all is;
If you are a regular reader you will know that Baby turned one just over a week ago.  This has heralded a few changes.  She has started to be introduced to cows milk, although I am still mixing it with formula to make the transition as easy as possible for her.  This week we have also started giving her tap water, instead of cooled boiled water.  It seems so weird to just go to the tap, after boiling the kettle for a year.  I think more teeth are also on the horizon as she is  twisting her tongue and chewing it, sure signs of imminent teeth.
The biggest change this week has been that Baby took her first steps,  only two biddy ones, but she is on her way.  This is so bittersweet.  My little Baby is growing up and there is no getting away from it.  I am so excited to go on this journey with her, but part of me just wants to freeze time, so she  can stay this age for a little longer.  Just so I get more time to cherish all the things I love so much.  Resting my head on hers and smelling her hair when we are alone in the dark.  The way she holds my hand while she drinks her bottle.  The crazy cuddles.  The kisses that are so freely given.  Playing peek-a-boo.  Looking at me as if I am the centre of her world.  It will not always be like this, which is scary.  I can't wait to see the little girl our baby will turn into, but I will miss the baby she was.
But there is no getting away from it change is happening.
I hope you have all had a good week?  Which word sums up your week?
My previous words of the week have been Organised , Overwhelmed,  Blessed,  Active , Cuddles , Play-Date/Illness, Change,
Horrible, Indecision,  Achievement,  Preparation and  Lunch
I am also linking with #PoCoLo over at Verily Victoria Vocialises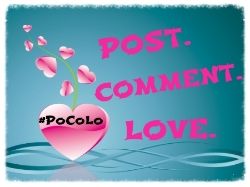 If you enjoy reading my blog I would appreciate it if you could nominate me in the BiB Awards xx